Terry Lindstrom
General Manager
National Research Council
Ocean, Coastal and River Engineering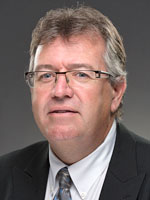 Terry Lindstrom is General Manager of NRC's Ocean, Coastal and River Engineering portfolio. From 2004 until 2012, he served as Executive Director of NRC's Design and Fabrication Services (DFS), where he led the engineering, design and manufacturing of research apparatus and experimental prototypes in support of NRC research efforts.

Prior to his tenure as Executive Director, Mr. Lindstrom served as Group Leader, Capacity and Resource Planning at DFS for six years where he contributed to the introduction and growth of project management principles and procedures within a research prototyping environment.

From 1987 to 1997, Mr. Lindstrom worked at the NRC Institute for Ocean Technology (IOT) in St. John's, Newfoundland where he held positions of increasing responsibilities in capacities ranging from technical design and applied research through to research facility management.

Before joining NRC, Mr. Lindstrom held the position of hull technologist with Saint John Shipbuilding Ltd. in New Brunswick for two years as part of the then Canadian Patrol Frigate Program and Nordco Limited (Newfoundland Ocean Research and Development Company).

Mr. Lindstrom received a Diploma of Technology in Naval Architecture from the Fisheries and Marine Institute of Memorial University of Newfoundland in 1983, and his Masters of Business Administration from the University of Ottawa in 2003. While with IOT, Mr. Lindstrom authored/co-authored several technical papers on ice interaction of various hull forms as well as submarine sub sail surfacing. He is an alumnus of the NRC LEAD Executive Challenge program (2009).