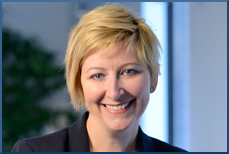 Christine Healy, Statoil

Christine Healy is the Vice President, North America Business Development Projects for Statoil. She is responsible for commercial and negotiation activities related to Statoil's oil and gas in North America, both offshore and onshore. This includes accessing new opportunities, negotiating with partners and potential partners, working with regulators and governments, pursuing business development, managing Statoil's land holdings, and assessing Statoil opportunities in the U.S., Canada, and Mexico.

From 2010-2012, Christine was the Head of Commercial Affairs for Statoil Canada's offshore operations. Prior to joining Statoil, Christine led an interdisciplinary negotiation team negotiating fiscal, benefits and equity terms for offshore oil developments on behalf of the government of Newfoundland and Labrador.

Prior to working for government, Christine worked in private legal practice in Newfoundland and Labrador, Ontario, and Alberta. Christine was named one of Canada's Top 40 Under 40 for 2009, and received the 2010 Newfoundland and Labrador Public Service Award of Excellence. Christine is a member of the Law Society of Newfoundland and Labrador, the Association of International Petroleum Negotiators, and is a past President of the Newfoundland and Labrador Branch of the Canadian Bar Association.

Christine is a native Newfoundlander who currently lives in Houston, Texas with her husband and two children.