Did you know it's easy to get to St. John's YYT - but remember it's ST. JOHN'S, Newfoundland and Labrador - not Saint John !
St. John's International Airport is connected to the world. We are serviced by several international and national airlines. Did you know you can fly to YYT - St. John's direct from Heathrow London, England in approximately 5 hours during peak season (May to September)) !
As well we have a direct flight from Newark, New Jersey - approximately 2.5 hours, so we are just one stop away from ALL major centres !
If you have any questions on best routes, airlines etc, please feel free to contact cathy.hogan@oceans14mtsieeestjohns.org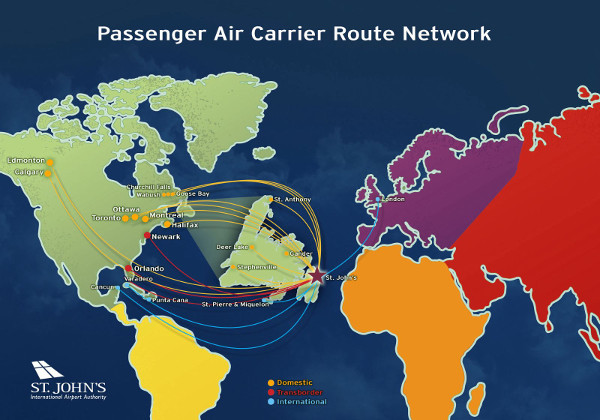 Six airlines currently offer scheduled passenger service year-round and two charter airlines offer seasonal services to Canadian and southern destinations. Please contact our airline partners directly for more information or reservations.
Scheduled Passenger Service:
Charter Passenger Service:

---
Visiting Canada
You may need a VISA to enter Canada. Information regarding who needs to obtain a temporary Visa to visit Canada is outlined at: http://www.cic.gc.ca/english/visit/index.asp
For a letter of invitation, we will need the following information in order to properly prepare that letter:
Complete name
Date of birth
Address and telephone number for where you are staying
Dates when you are entering and leaving Canada
Please allow sufficient time when requesting the letter in order to have your application for VISA to be approved.
The VISA application form can be obtained at
http://www.cic.gc.ca/english/pdf/kits/forms/IMM5257E.PDF
Other AIR Travel Information
Most established international airlines fly into Canada, with the largest hub being Pearson International Airport located in Toronto, Ontario. Within Canada there are convenient schedules and flight times featuring a wide variety of international and connector airlines, including Air Canada (Star Alliance), WestJet, Porter Airlines and United.
Approximate Air Travel Connecting Times:
Toronto
St. John's
3 hours
Montreal
St. John's
2 hours
Halifax
St. John's
1 1/2 hours
New York, USA
St. John's
4 hours
Boston
St. John's
3 hours