OPTIONAL DELEGATE EVENING EVENT TUESDAY, SEPTEMBER 16, 2014

Rally in the Alley on George Street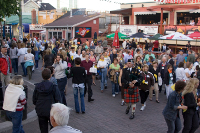 Tonight we take an up close and personal tour of the infamous George Street, stopping along the way for some of Newfoundland's famous Fish n' Chips and local beverages. George Street, located in St. John's, Newfoundland, is a party destination for thousands of people searching for a good time. Whether you are from Newfoundland & Labrador or some other part of the world, George Street is sure to provide you with a night you'll never forget (or in some cases a night you won't remember). Event includes traditional fish n' chips dinner, four complimentary drinks and a experience some elements of our unique culture first hand. Each delegate will take part in a Newfoundland Sing Song complete with a group leader and song books, a local right of passage offered to visitors from away for generations call a Screech-In, and a Newfoundland Step Dance Demonstration and lesson from a group of local dancers. The event concludes with exclusive access to a great bar that features a fantastic local band to finish. This is truly an awesome event!

PRICE PER PERSON: $85.00
Price Includes:
Fish n' Chips Dinner
4 drinks
Screech in Ceremony
Entertainment at each venue
Custom logoed 'Rally in the Alley' bandanas
Entrance fees to the pubs and bars on the Rally
All taxes.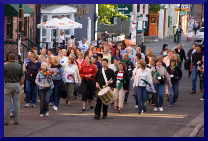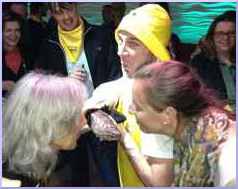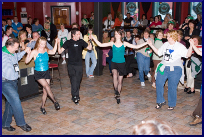 ---
OPTIONAL DELEGATE TOUR PROGRAM

The Far East of the Western World (3 Hours)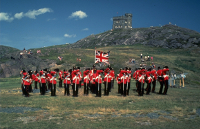 Tour old St. John's with plenty of time to see such National historic sights as Cabot Tower, Signal Hill, the Anglican Cathedral of St. John the Baptist and the Basilica. Hear the legends of Dead Man's Pond, and Government House and the history surrounding the Colonial Building. This tour will orient you and give you a feel for the history, legend and lore of St. John's, the oldest community in North America. Next we are off to visit the National Park at Cape Spear, the most easterly point of land in North America. Here the lighthouse has been restored to circa 1836. Explore the bunkers built by Canadian soldiers in the side of the cliffs here during the Second World War. Now you can say you have been to the other "Far East" where you can stand with your back to the Atlantic and face every other being in North America - or turn your back on them. The choice is yours!

PRICE PER PERSON: $50.00 includes Transportation, Local Guide, and Entrance Fees

---
Bird Island Tour (4 Hours)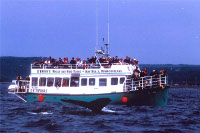 Today begins with a drive down the Southern Shore to the historic Irish outport, Bay Bulls. Here we take a boat ride out to the Witless Bay Ecological Reserve Bird Islands, home to thousands of Atlantic Puffins, Murres and Kittiwakes in the spring and summer. Although it is late in the season, we will look for whales which frequent this bay in the summer months.

PRICE PER PERSON: $85.00 includes Transportation to and from Bay Bulls with guide



---
Outports, Lucky Rocks, and John Guy's Colony(Full-Day)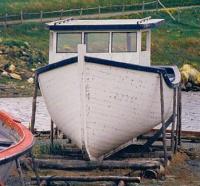 Today we will go "around the Bay" along the picturesque coastline of Conception Bay, the home of pirates of centuries ago. We will stop along the in Holyrood to search for 'Lucky Rocks' on the beach. We also stop for picture taking as we make our way to Brigus, one of the historic sailing ports of Conception Bay and home of the late, famous Captain Bob Bartlett who took Perry to the North Pole. Here we have the opportunity to visit Hawthorne Cottage and take 'The Walk' around the community. Lunch and local entertainment today is in Cupids, one of the oldest settled communities in Newfoundland. This area is celebrating its 400th anniversary in 2010 of John Guy establishing a colony in this area for the Merchant Ventures' in Bristol England. After lunch we would take a walk through the museum in Cupids and visit the archaeology site where the old colony is being rediscovered. Our guide will regale you with the history culture and language of the Newfoundland people.

PRICE PER PERSON: $130.00 includes Lunch, Transportation, Local Guide, and Entrance Fees



---
Colony of Avalon / Lighthouse Picnic(Full Day)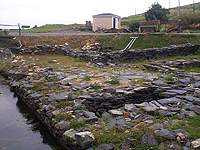 This morning we will travel to the Southern Shore of the Avalon Peninsula along the winding coastline of the beautiful Irish Loop which is dotted with small 'outport' communities for which Newfoundland is so famous. Lunch will be served in the seaside town of Ferryland after which you will visit the Colony of Avalon Archaeology Site, where the remains of an early 17th century settlement is well preserved. We will walk on a 17th–century street, see a 17th–century herb garden, and look at the remains of everyday life in one of the earliest European colonies in North America. The colony was founded by George Calvert, later Lord Baltimore, in 1621. Most people have no idea that permanent European settlement in North America dates so far back, and that Newfoundland played such an important role. The Ferryland settlement was "forgotten", and its remains lay undisturbed for centuries.

PRICE PER PERSON: $130.00 includes Lunch, Transportation, Local Guide, and Entrance Fees



---
TOUR POLICY INFORMATION
All tour prices include HST. Changes or cancellations may be made 48 hours prior to start of tour. If an individual does not show for the tour and has not contacted McCarthy's Party prior to 48 hours, refunds will not be given. Please note that all day tours are subject to cancellation if minimum numbers are not met. Upon cancellation, refunds will be given to those registered or payment transferred to an alternate tour.

Contact Information
McCarthy's Party Ltd., 566 Water St., St. John's, NL A1E 1B8 or Fax to (709) 579-1000 Direct registration enquiries to McCarthy's Party Tel: 1 (888) 660-6060 Fax: 1 (709) 579-1000 Email: nfldinfo@mccarthysparty.com